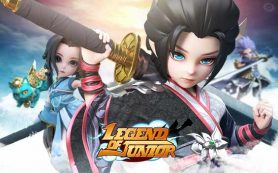 | | |
| --- | --- |
| Graphics | |
| Fun Factor | |
| Handling | |
| Community | |
Legend of Junior  – The legend continues
Anime Browser MMORPG – One of the most recent games that we got our hands on was the free to play title Legend of Junior , a game that might be interesting for anyone who loves some classic MMORPG action in his or her browser. We spent a few hours playing this promising title and here is our report.
Game concept of Legend of Junior
Legend of Junior  is traditional Anime MMORPG browser game. As such you are starting out with you level one character, having nothing but a few coins and some rudimentary gear. Once you finished the tutorial you find yourself at the beginning of an epic journey. While you do start out completing some of the simpler tasks like slaying a given amount of monsters or collecting specific items, each of these tasks will eventually help to improve your character. This happens by leveling up, collecting better gear and by finding certain allies, which will assist you in upcoming battles.
Distinctive classes and flashy animations:
As for now you get to choose between three distinctive classes. Warrior, Mage and Archer. Even though these classes might not seem that innovative, Legend of Junior  still might convince you otherwise. For our review we played as an archer – a professional at ranged combat. During our first encounter we unleashed quite some firework on our foes and riddled them with holes in no time. The combat itself resembles old-fashioned RPG's like Final Anime or such and despite the fact that most of it is automated, it still looked pretty neat. Our attacks really looked like they could pack a punch and that left us wondering what sort of overkill ability we might unlock at higher levels.
Ghosts of ancient beings fight by your side:
Within the first five minutes of gameplay you get your first companion, a paladin of some sort that turns out to be valuable asset to the fighting party that you are about to form up. Aside from mortal allies, which will assist you in battle, there are also these godlike beings, the ghosts of ancient deities and heroes. These powerful entities reminded us of the good old Bestia or Summons because their attacks are more than strong enough to clear the battlefield within a single blow. In addition to that these beings provide helpful buffs to your stats and passive statistics, which could make the difference between life and death.
The power of love:
We have seen our fair share of MMORPG's by now and some of them really have some pretty interesting features and gimmicks but the sheer amount of activities and features that Legend of Junior  provides was somewhat overwhelming. Sure, there is an arena and even a fishing pond, which can provide some extra income but that's stuff that we have already seen. What we haven't seen yet is the marriage feature. Yes, you heard us – you can marry another player in Legend Online and it even provides some neat bonus for the newlywed couple.
Special Features ofLegend of Junior
Free-to-Play Browser MMORPG: Legend of Junior is absolutely free to play – Just sign up once and you are good to go directly in your web browser.
Three unique classes: Mage, Warrior or Archer? The choice of customization is yours.
Ancient beings fight by your side: Form alliances with immortal deities and sunder your foes.
The power of love: Marry another player and take profit from the unique buffs for married couples.
The Bottom Line
Legend of Junior  is a free to play Browser Anime MMORPG like any other but then again it's not. Yes, the overall artwork is neat and the animations are flashy and all that, but by the end of the day we have seen it elsewhere already. What we haven't see though is the rich world of Legend of Junior , the amount of little gimmicks and innovative features, such as the marriage or the opportunity for players to dabble in fashion for some extra buffs. This showed us that the whole of Legend of Junior  is definitely greater than the sum of its parts and definitely worth a visit for any fan of the genre.
Photos of Legend of Junior