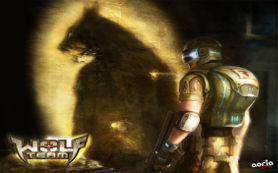 | | |
| --- | --- |
| Graphics | |
| Fun Factor | |
| Handling | |
| Community | |
WolfTeam – get ready for exciting battles
Fantasy FPS Shooter – Literally blow your enemies off the screen? Or would you rather fight werewolves in super fast battles? In the free online FPS WolfTeam, Aeria Games makes it possible for all players to live out their bloodlust. You can choose to fight alongside men or werewolves on about twelve maps. Who doesn't want to experience at least once how it is to be one of the fantastic creatures—ruthless werewolves? We tested it out for you!
Official trailer WolfTeam
Game concept WolfTeam
Mainly you have two big things to do in the free online FPS WolfTeam: destroy or be destroyed! But this is easier said than done. WolfTeam does have some typical shooter elements like those players know from popular ego shooters such as Battlefield, Call of Duty and Counter Strike, yet WolfTeam stands out with its fast rounds and completely different creatures that ensure excitement and heart-racing. So here are the most important elements.
Fair class/race distribution
Aeria Games has managed a very refined class distribution and gave individual characteristics to the different races, which ensures good balance in battles and avoids frustration and unequal classes. Men have a whole bunch of different weapons and the possibility of creating personal classes at their disposal. To balance that one out, werewolves have the ability to jump on the walls and turn into different kinds of wolves such as the berserker wolves or psycho-wolves or in any one of a total of seven different werewolf kinds.  Through their unique characteristics werewolves come second to no one in matters of deadliness; in battle, players will have to prove their skill and not their strength.
Exciting fights
The maps are cleverly designed with a lot of diversity, so that the player doesn't feel confined. You meet your opponents rather quickly, without having to wander around for too long, which leads to fast and hard battles. But this doesn't make WolfTeam any weaker as a game, because levelling is designed cleverly over different planes. You must always react fast and keep a watchful eye on your surroundings.
Interesting new game modes
Like in classic ego-shooters, players get the most popular game modes such as team death match, destroy and conquest, as well as Ice Hold in which you can bring your teammates back to life. But the werewolves open new possibilities for modes such as Wolf Hunt, in which men and werewolves fight bitter battles that only skill can win, and Wolf Conquest, which ensures diversity and the fact that the game stands out from all the others.
Features of WolfTeam
Unique game concept: Fight as a werewolf or a man, and enjoy the advantages that your chosen race comes with.
Controls: Start off with minimal effort, because in WolfTeam the new stuff is easy to learn through the popular WASD-controls;
Good balance: The weapons of men and the classes of werewolves are very well balanced;
Good level design: On the maps you'll find a good balance between narrow passageways and open spaces, and you'll enjoy a lot of diversity every round;
Action-packed battles: You end up in a battle pretty quickly, and you gave to be careful—fast reactions will make the difference.
Conclusions about WolfTeam
Whatever the leading ego-shooters out there have to offer, the free Online FPS WolfTeam offers it, too. Moreover, it gives players the possibility of slipping in the role of werewolves, which gives the entire thing a whole new direction and a brand new feeling. You'll need very little time to get used to the easy controls. The fast action and reaction ensure a lot of fun and tension during battle, which is refreshing compared to conventional ego-shooters, which play rather slowly. We find WolfTeam to be a game for everyone who enjoys the genre, a game that offers a pleasant and exciting gameplay!