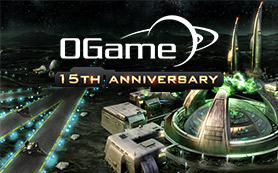 | | |
| --- | --- |
| Graphics | |
| Fun Factor | |
| Handling | |
| Community | |
OGame – A great sci-fi strategy game on your browser
Space Browser Game – The free-to-play real-time strategy game OGame is currently one of the most successful sci-fi browser games. With thousands of players over 29 different countries this game demands our attention. But why has the game been so successful? We tested it out for you.
Official OGame Trailer
Game Premise
It's easy to express the game objective of OGame with just a few words: taking over the universe. This is, however, easier said than done. But what do you need to watch out for on your way to universal dominance? Read below to find out.
An Aggressive Pirate or a Peaceful Merchant
The free-to-play sci-fi browser game OGame gives the player free reign in terms of how his in-game character unfolds. Whether you want to become an aggressive pirate, who take overs fleets and planets from other players, or a peaceful trader extracting raw materials from countless planets in order to line your pockets or as the leader of a powerful alliance influencing the political landscape within OGame – there are enough options to fit with the play style of each and every player. It is particularly important for alliances to have a well thought-out balance of different players (Fighters, Traders, Technicians, etc.)
Your First Planet
In order to take control of the universe, you need to firstly build up your economic and military infrastructure. The raw materials available from the beginning include metals, deuterium and crystal. These need to be collected by building up and extracting mine and mineral fields. There's also an alternative way to gain resources. These include plundering, taking part in expeditions to unknown planets or trading with other players. As soon as you have kitted out your home planet with economic, military, production and defensive capabilities, you then can move on to conquering other planets. From this point on, research and technology plays a huge role.
Knowledge is Power
Research and knowledge are the integral parts of the free-to-play sci-fi strategy game OGame. Within the 4 main areas of fundamental, propulsion, expansion and military research there are countless technologies available to the player, which the player can use to help complete missions, build new units and buildings or settle on unknown planets. In OGame there isn't much of a linear path forced onto the player. On the contrary, the players are encouraged to path their own way and combine different research options. Every player can stamp their own individualism onto the game.
Alliance and Empires
For you to be successful in the game, you need to cooperate with other players. It is, therefore, recommended that you either join an already existing alliance or form your own one. Normally these alliances develop a distinctive structure, which allows the players involved to gain certain recognition such as economic minster, defence minister etc. Relationships between different alliances could lead to intensive economic and military partnerships or an extended bitter war. It is also possible to form political relationships with empires. 
Special Features
Beginner Friendly: OGame gives new players so-called 'Noob Protection', which protects the player from attacks during the beginning construction phase.
Flexible Difficulty Settings: As you increase the number of planets, units and buildings, the level of complexity also increases. This guarantees a long-term level of enjoyment!
Research: OGame offers up plenty of research options. Every player has the potential to go their own direction and reap rewards in the process
Alliance System: OGame has a very convincing, extensive, and innovative alliance system, enabling coordinated attacks as well as political development
Excellence: OGame was nominated in 2010 for the German developer prize in the category 'Customer Support' and in 2012 in the category 'Browser Game of the Year!'
Free-to-play: OGame is a free-to-play sci-fi browser game and can be played by everyone directly on their web browser!
Tips & Tricks
Defence: Strong players take over planets with a lot of resources. Be inconspicuous and invest your resources wisely
Energy: Always try to settle close to the sun. You get more energy there thanks to your solar satellites.
Lack of Space 1: The first three planets are small. Concentrate on building up your resource extraction.
Lack of Space 2: Try to only settle on planets with more than 100 sections, as these offer up the most advantageous space.
The Bottom Line
The free-to-play sci-fi browser game OGame is an extremely successful browser sci-fi game. Due to its skilful mix as a construction and strategy game, it combines economic and strategic challenges with battle-heavy space fights, guaranteeing a lot of fun for every player. The quick success of the game in countless different countries speaks for itself. If you're a fan of space settings and construction simulations, you are bound to have a lot to enjoy while playing OGame.