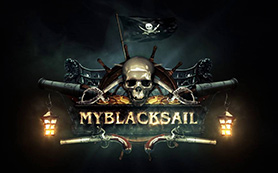 | | |
| --- | --- |
| Graphics | |
| Fun Factor | |
| Handling | |
| Community | |
Overall Score
My Black Sail – Fighting the grip of the Bermuda Triangle!
Pirate browser game – Not just drifting off course, but getting in deep trouble! In the free pirate blockbuster My Black Sail you'll slip in the grip of the Bermuda Triangle, and you have t keep yourself above unknown waters. Read on to find out what you can expect on your adventures!
The game principle of My Black Sail
My Black Sail adds a great touch of fantasy to the genre pirate browser game! As captain of a pirate ship you start on treasure hunt, but on your journeys you might also have to aim your cannons at giant sea monsters. But before you can start on this adventure you'll have to first create a free account on the game website. The next step is creating your own captain. Once you've decided on his looks as well as on a color the game can begin. Wow! Directly after we've been swallowed by a storm in the Bermuda Triangle we wake up to see a tropical island. We were a little confused at first, but luckily from the very first minute in the game we got a tutorial! This way even the most inexperienced beginners will have an easy start in the game.
Series of quests that create the mood:
As soon as we started out in the game we were greeted by the beautiful Elise, who was happy that we survived the storm. Elise sent us to her sister Annie, who tended to our wounds. From here we had to travel to the neighbor island where captain Ramos sent us on our first fight. As it's surely clear by now, you'll meet many characters in My Black Sail, and you'll keep receiving new tasks. This way you'll get the feeling you're part of the story very soon.
Everybody on board:
When it comes to fighting in My Black Sail, the view switches from journey perspective to fighting view! In this view you're facing your opponents directly. First you have to get close enough to your enemies, until they're in the range of your cannons. When you're close enough you can start a real firework! Besides your main weapons you also have additional special attacks, and you can even call on support ships in battle. If you use your possibilities wisely, you'll soon watch masses of sea monsters and enemy ships go down under your power!
Enhance your ship:
On your perilous water journeys in My Black Sails you'll earn many ducats, and sometimes you'll find super enhancements for your ship. For example, we got our hands on a heavy iron cannon for our shooter crew from the very beginning! But many more enhancement possibilities are waiting for you. Refined figureheads, new rows or even armor plates are only a few of all the available upgrades. This way, in time you'll command a real warship, and you'll watch your treasury grow fuller by the day!
Harmonious implementation:
In My Black Sail you journey between different tropical islands, and you can fall right in love with the sun and the turquois water! The scenery in this browser game looks really like an advertising card for your next vacation – if it weren't for the gigantic turtles and other monsters that won't let you relax. The musical backdrop is relaxing, which makes it hard to remember that you didn't become a captain only for pleasure!
Features of My Black Sail
Completely free:

Sign up for My Black Sail for free, and create your own pirate captain!
Series of quests that set the mood:

Journey from island to island, looking forward to the many quests waiting for you. You'll sure find anything but boredom!
Everybody on board:

Show sea monsters and enemy captains who's really to be feared on the seas!  
Enhance your ship:

Keep adding equipment to the rather shabby ship you have in the beginning, turning it into a terrifying frigate that will send your enemies trembling!  
Harmonious implementation:

Get in the pirate mood in My Black Sail. Shining turquois sea, flawless beaches and sea monsters are waiting for you!
Conclusions My Black Sail
The free pirate browser game 'My Black Sail' takes the player into an exciting world full of adventure and exciting sea battles! Create your own personal captain and conquer the world seas. Collect new equipment and cannons for your ship, and blow even the most powerful monsters from the screen! We can only recommend hobby-privateers to create a free account immediately, and take on the journey to the Bermuda Triangle. What pirate heart can resist the Caribbean breeze and cannon thunder?