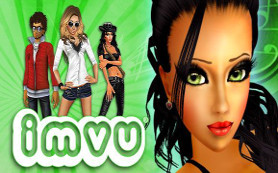 | | |
| --- | --- |
| Graphics | |
| Fun Factor | |
| Handling | |
| Community | |
IMVU – Your 3D Chat Adventure
3D-Instant Messaging Platform  – Chat with people from all around the world. The free-to-use 3D instant-message platform IMVU takes you to another world, where you can meet new people, interact and create the coolest and most special avatars ever. With over three million users it has been very successful for years and continues to give people a space to come together and hang out. Want to know more about IMVU? Read our review and see for yourself if IMVU is the right thing for you…
Official Trailer
Summary of IMVU
Chat rooms have been around for so many years now but the free-to-use 3D instant-message platform IMVU is special compared to the others due to the way players can implement their own personal style, even if they are a little more colorful than others. We have listed the features IMVU has to offer below.
Your Personal Alter Ego
Before starting IMVU you first have to create your avatar. You have an amazing amount of basic types to choose from and even more options to personalize your character to make it look the way you want it to look. There are plenty of styles available, everything from fashionable street wear to crazy manga or gothic styles. Also you have all kinds of different hair styles to pick from. Just like the clothing, you can have classic hairstyles in normal colors but also freaky, colorful stuff. You are free to do whatever you want to do. It´s all your decision!
Interactive Chat Rooms
Of course IMVU is an instant-messenger so its chat rooms are going to be one its most important features. There are not only many, many chat rooms to choose from, which all vary in style and take you to different locations, but they are also all interactive, so when you enter them, you can move from one spot to another, interact with objects and let your avatar perform actions like dancing or pulling emoji faces. With more than 3 million active users there are always thousands and thousands of people to meet and chat with.
Change and Style your World
IMVU is not only about creating an avatar and chatting with other users. In fact, your avatar also has a home, which you can decorate and redecorate to fit your personal style. Just like when creating your character, you have a variety of options to choose from and countless items on your hands to personalize your home with. In addition, you can change the style of your avatar by buying them new clothes and storing them in your wardrobe. Try out new outfits, combine things and find your own style. After you have found the look you want, you can then compare your style with others and maybe get some inspiration for your next outfit.
Special Features
Create your Avatar: Choose your favourite avatar and personalize it to make it look the way you want others to see you on the web
Change your Style: Buy yourself some new fresh clothes and change your style whenever you want to using your wardrobe
Chatrooms: Meet countless people from over 80 countries, talk, hang out and have fun together in an interactive world
Decorating your Home: Create and decorate your home the way you want to. Treat it your own second world
Online Friends: Make friends with people from all over the world, get to know their personalities and stories and never be lonely
The Bottom Line
There are many messengers out there for different platforms and different reasons. The free-to-use 3D Instant-messenger IMVU stands out from the crowd due to its many ways of personalizing and shaping both your avatar and the world IMVU takes you to. There are no limits to your creativity and with its three million users, you will always find someone to talk to. It´s not only a place where you can go to meet new people, but also somewhere you can be what you want to be and look exactly the way you want to. Create your own world in IMVU!