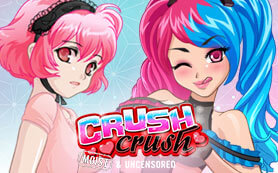 | | |
| --- | --- |
| Graphics | |
| Fun Factor | |
| Handling | |
| Community | |
Crush Crush – You'll fall in love with this one!
Dating browser game – Only love matters. Nutaku Games gives you the free browser game 'Crush Crush'! As you might guess by the name, this game is all about love and how friendships can become more than that. Read on to find out exactly what to expect!
Official trailer Crush Crush
The game principle of Crush Crush
So what exactly is a dating browser game? Well, basically Crush Crush is about meeting different girls and winning their hearts! But before you can start out you need to create a free account with Nutaku. Once you've done that the fun can begin! Your first steps will throw you directly into the arms of your first acquaintance – you basically run into her. Not exactly the best start for a romance, but you know how the saying goes – you never know when love strikes. Now you have to apologize to the lady, and win her favor with small tokens of appreciation! Whether you'll manage to turn from a poor devil into a charming heartthrob – well, that is the question.
Great anime style:
Developed by Sad Panda Studios, Crush Crush has a great anime style. All of the characters are colorful to say the least, especially the hair takes on many crazy hues. This style may be a little bit too much for genre beginners, but it still has special appeal. If you're familiar with anime, you'll find your way in the game easily, and you'll enjoy the chosen style to the fullest – as well as your dating!
Work is worth it:
You'll need money to go on your dates, of course. That's why there are all kinds of jobs for you in Crush Crush. You can work as a waiter, burger maker or lifeguard – you can take your pick. What's especially cool is that you can get promoted, and earn more and more money! Some of your acquaintances will be crazy for certain jobs. If your date happens to have a special liking for swimmers, it will definitely be an advantage for you to be working in this field! So make your job pick carefully, and win the heart of your date!
Hobbies that bring advantage:
Not only your job is of interest, but also your leisure activities! In Crush Crush your hobbies teach you certain skills. These skills unlock new jobs at their turn, and make it possible for you to do work that requires fulfilling certain conditions! And that's not the only way that having a hobby makes sense. If you like to go partying, your "funny" skill goes up and it will make everybody laugh! As activist and protester your "motivation" skill goes up – and this one also helps with sad girls. So do not neglect your hobbies! 
A girl for every taste:
If a date is nothing to your liking in Crush Crush, don't worry! In this dating browser game there are 14 different dates – so you have more than one chance! Every girl has different interests and preferences, so there is a glove for every hand. Just like in real life, it can happen that you have to search until you meet your dream date. Just keep meeting new people until you discover Miss Right.
Features of Crush Crush
Free: All you need in order to start on your journey in the dating world of Crush Crush is a free account with Natuko!
Great anime style: If you love colorful, crazy characters from the Asian world, then you can't do anything wrong in Crush Crush!
Work is worth it: Work to earn the money you need in order to go on dates and conquer girls' hearts!
Hobbies that bring advantage: Leisure activities bring different skills in Crush Crush. Either well-trained or particularly funny – your decision!
A girl for every taste: If a date doesn't go well, don't worry – 14 different girls will be happy to meet you!
Conclusions about Crush Crush
Crush Crush is a special free dating game for the browser! Meet your future dream girl in a great anime world! Look for the job that you can make most of, and invite your dream girl on a date she won't forget. You should also choose your hobbies smartly – not all women are into computer nerds. Take on the dating challenge in Crush Crush and meet Miss Right. Everything works, from flirting to walking under the full moon. If you're a dating fan, we recommend that you create an account and start looking for the love of your life!